Ruben Rua, Catwalk Coach: Inside Elite Model Look
Ruben Rua competed in Elite Model Look Portugal in 2005. As well as modelling, he is now a man with many strings to his bow – a booker with Elite Lisbon, an actor, author and television presenter, and has collaborated with fashion brands as designer.
With a degree in Communication Science from the Nova University in Lisbon, Ruben didn't win the Elite Model Look Final that he took part in, but he has enjoyed a stellar career in fashion and media since he took part. After the contest, he walked at Paris and Milan fashion week for brands like Dolce & Gabbana , Valentino, Bottega Veneta, Giafranco Ferré and Jean-Paul Gaultier, and has modelled for Vanity Fair, Cosmopolitan, GQ, Men's Health and Elle. He has been nominated for Model of the Year at the Portuguese Golden Globes five times, winning in 2015. As a presenter, he has been the face of the What's Up TV show and Portugal Fashion Week on network RTP2. At the end of 2016, he released his autobiography. This year, he starred in his first feature film Leviano and is hosting the Portuguese First Dates show.
At the World Final, Ruben has been catwalk coach and more – acting as face of the Elite Model Look content, mentoring the Finalists through their journey, from their first welcome through to leading all the Bootcamp activities and giving them motivational talks backstage before the Final Show. We get to know more about him and why his experience gives him unique insight into what it's like to compete at Elite Model Look.

You will teach the Finalists to catwalk during the World Final. What's trick to doing a strong walk?
When you're on the catwalk, you need to keep your back straight, walk to the beat of the music that's playing, move your arms, look ahead and the most important thing: be natural and confident! Nothing can seem unnatural or like you are forcing it.

You started as a model in the EML competition. Does this help when you teach the Finalists to walk?
Definitely! More than just teaching our Finalists how to walk, I understand exactly how they feel. I know what's going on inside their heads - their doubts, their fears and their dreams! Elite Model Look is in my blood and having done it makes feel me even closer to them.

You're also a booker, and a TV presenter – does being a model help that?
Absolutely. I believe that a model is an actor without a script. You need to imagine the character of the girl or guy you're trying to embody, how they feel, how they move. As a consequence, you work on your body language and you become familiar with the camera, knowing your angles and how to work with light just like actors do. As a booker, you deal with the same clients you worked with as a model, you know the business from the other side of the set but through booking you learn so much more, and again, you totally understand how your models think and work. Being a model is the best degree you can have to become a booker!

What life skills does being a model teach you that you can take to other areas?
Modelling gives you the chance to travel the world and meet new people every day. through your work, you learn new languages and get a different view of other cultures. You grow as a person and as a human being! Travel is such an amazing form of education. I believe you become more open-minded and you judge people and situations much less - it gives you empathy and an open spirit!

Who taught you to catwalk?
I taught myself! When I did Elite Model Look, I was not lucky enough to make it to the World Final. although boys have been participating at National level for some time, it's only since 2014 that boys have participated at World Final level. To learn to walk, I watched some videos on Youtube and some fashion shows. I tried to learn from the best models and at the same time to build my own style and walk. Practice, practice, practice! You can learn anything if you set your mind to it - all you need is time, and determination and the how will fall into place by itself!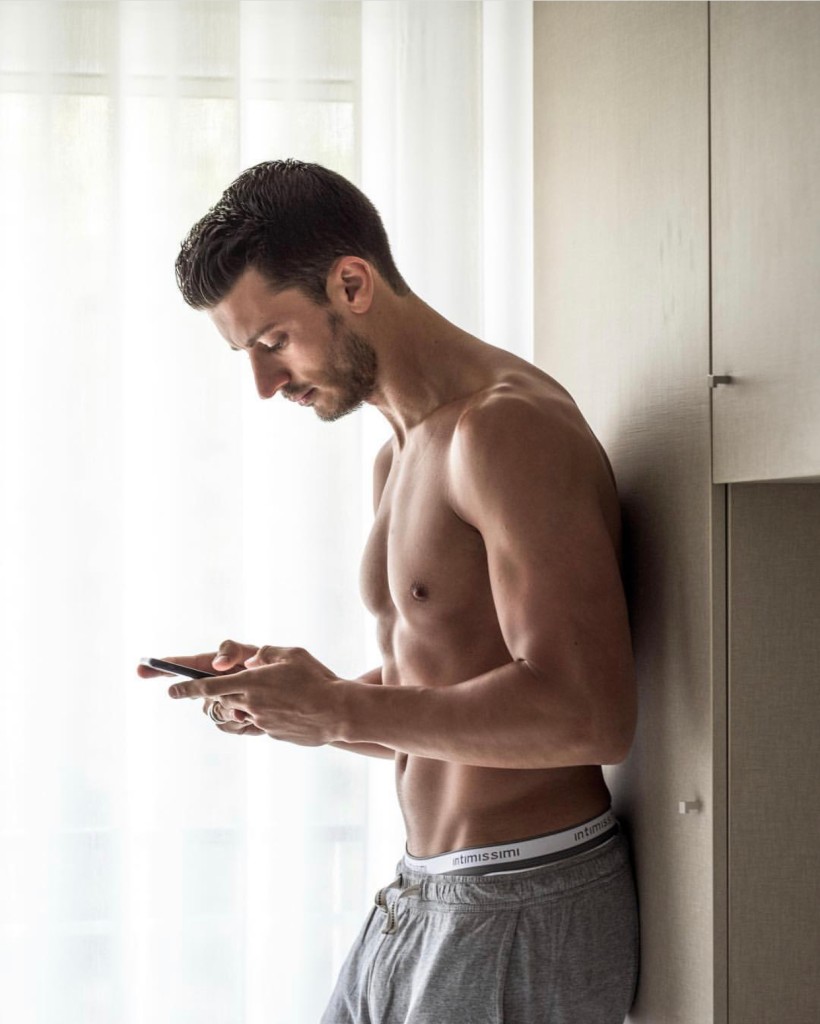 You are obviously very successful on social media – do you enjoy it or see it as part of your job?
It is an important part of my job, but I do really enjoy it. I like to communicate with lots of people and think it's cool that I can share my daily life with my followers. I don't really limit the amount of time I spend on social media. At the moment, I'm enjoying it and I manage to not take it too seriously. At the end of the day I'm usually pretty content with how my day has gone and for now, that's definitely enough for me!
What strengths do you admire in other people?
A sense of humour is so important, as well a strong sense in the importance of education, I also find that I am always drawn to unique individuals who are a little bit different. I admire everyone that keeps focused and tries to make the most of their dreams. I admire those that don't get bogged down by life and keep striving for more, to keep trying and to never give up.
What's your horoscope? Do you believe in horoscopes?
I'm 100% pure Aquarius!


What's your favourite way to work out?
My favourite thing to do is to go for a run, I live really close to a river and I find running along a river really relaxing. I'm also trying to get back to doing yoga at least once a week. I've always thought it was really important to be healthy and keep fit. When I was little I did a lot of swimming and I've played a lot of handball. I used to play a lot until I started modelling when I was 18.
If you could spend tomorrow anywhere with anyone, who and where would it be?
If I could go anywhere with anyone I would go to Ibiza with my best friend, Ricardo. It's such a beautiful place and I like chilling out and spending time with my close friends. I went to Norway recently. I went there on a job for PlayStation, we went to the Fjords which were so unique and beautiful, it's such a cool country and I'd love to go back one day.
If you could give $1m to any charity, which one would it be and why?
If I could help any charity, I would love to support a charity that helps handicapped children who need help to make their daily lives easier and a little bit happier. My mum teaches children with special needs so I've always been really motivated to help where I can. I also think it's important to look after the older people in the community, getting old happens to everyone and it's something I think about.
How do you relax?
I like listening to music, going to the gym and watching movies to relax. I also love to lie on my couch and eat cookies and ice cream or have a nice lunch with my friends and family. I have one sister who is three years younger than me. We have such a good relationship and we really get on, we live together now, it's so cool to have siblings! I think it's so important to take time for yourself and to properly wind down and to take some time out from work. My favourite TV show to watch is 'First Dates'! I'm about to start hosting it for Portuguese TV, it was all filmed in Madrid which was cool. My favourite film is 'Mommy' which is directed by Xavier Dolan, I've seen it 9 or 10 times and its definitely one of my favourite movies ever.
What's the best advice you ever got?
It sounds cliché but it´s the true… be yourself, always! The fashion world likes people with personality and attitude. To make it in this industry, you need much more than just a beautiful face, the world is always searching for charisma!

You might also like...