Alistair Waterfield Named Creative Director Of George Cox
Alistair Waterfield did Elite Model Look UK in 2015, but he was no newbie to the world of fashion. His great-grandfather set up shoe company George Cox in 1906, and it has been a family business ever since. The shoes became iconic when they were adopted by the Teddy Boys in the late 1940s, and were inherited by punks, mods and rockers after that. He grew up around the business, and has now been promoted by his dad Adam to Creative Director, taking the brand into the fifth generation of the family. We talked to him about what it all means, being on the other side of the camera and what's next for the label.
You've been named as creative director for George Cox! How does that feel?
It's different at each company, but at George Cox, it means that I put forward my ideas in terms of brand image, design or collaboration, and work alongside my dad, Adam, to say how the brand communicates its story and its products to the public. The last year I've taken a much more involved role in the company, and my experiences from modelling, seeing how great brands work, has been really useful. My dad wanted to recognize my contributions and I got the support of the great team we worked with on the rebrand, so he had no other choice!
Did you always grow up around shoes?
I'd been working doing bits and pieces for my dad since I was very young, I remember representing the company at an trade fair for subcultural fashion in Berlin when I was 16, and spending weeknights studding leather for shoes when we needed to make a short deadline. Further back than that I remember running around the factory, stealing sweets from the secretaries and being a nuisance!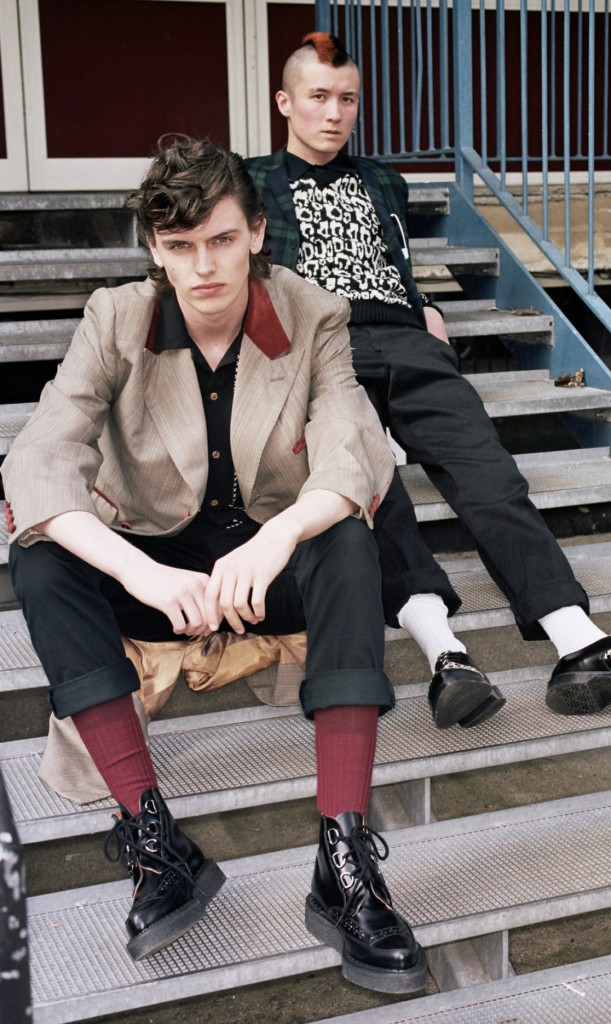 You're in the campaign and we heard you had a role casting as well! Tell us what that was like?
The campaign was a really fun experience but a little bit stressful! On the day of the shoot, we lost about 3 hours of shooting when someone stole the photographer's camera bag on location! We never got it back, but we managed to reshoot it all. I worked with Jordan Duddy to cast the shoot, we street cast and we managed to find a great group of people. Being at Central Saint Martin's Art School helps when looking for models, everyone has their own distinctive look and a personality to match. The intention was to keep the shoot genuine, and our cast all belonged to the youth subcultures we wanted to represent to a certain degree.
Did you always know that you were going to get involved with George Cox?
I grew up with it as an option to delve into always, which could have been a pressure but it was never presented to me that way. There was never any obligation to work there. So I feel like my involvement was based on my intent purely, had I not wanted to work there then that would be it. So a very natural fit.
What plans do you have for George Cox for the future?
I'd hope to be involved in our company for a long time. I lack any business skills so I don't think I'd be ready to take up those responsibilities any time soon, but I'd hope that we can keep the company in the family, and never lose our edge. I think our history is what makes us special. We're constantly getting emails from companies to bring new designs and collaborations to the floor, but we can't give too much away! There's plenty to look forward to though, we've been in the studio the last few weeks trying some experiments for an exciting new project with one of London's most talented young artist designers.
You might also like...